Family
Partner: Emma 
Children: IIiese (6), Isaiah (1) & Immanuel (newborn)

Get to know Marika
A dual international, Marika has played for the Fiji National Rugby League team and is now a proud member of the Wallabies as they look to again climb to the top of the rugby union world.
Marika's career started in rugby league almost a decade ago with the Wests Tigers, before he was snapped up by Craig Bellamy and the Melbourne Storm juggernaut in the NRL mid-season in 2014.
Marika finished the 2015 season as the Storm's top try scorer before eventually switching codes after 58 games for the Storm, including 34 tries and seven Tests for Fiji.
Joining the Melbourne Rebels, Marika qualified for the Wallabies under the residency rule. He has continued his try scoring feats in rugby with his strength and blistering speed delivering more than 20 tries for the Rebels and almost the same for the Wallabies as he nears the 40 Test mark.
However, his boys keep him on his toes as much as any fleet-footed wing rival.
"We love going to the park, kicking the ball around and playing a bit of one-on-one rugby," Marika says of his boys. "I love watching them grow up and the lots of the funny conversations."
Marika is an extraordinary dad! He is always very compassionate and involved with the kids' lives. When he is on tour, he always call 4/5 times a day just to check in with us.
QDo you find it hard spending time away from the kids during the rugby seasons and what's it like now during Covid?
AYes it's always hard been away from my family especially during this pandemic.

QOn a normal game days, do you like to relax with the kids or do you try to keep away from the family?
AOn game day I always love being around my kids and we always go for morning walk, go grab a coffee and hang around at the park.

QCongratulations on the birth of baby Immanuel. How much has your life changed since the kids were born?
AYeah Immanuel is the only kid that I miss the birth and I'm super proud of Emma to handle the situation on her own. The kids bring me a lot of maturity and I try to be a good example on and off the field.

QTell us about being a dad. How much do you enjoy it?
AWhat I enjoy the most is seeing my kids grow and lots funny conversations!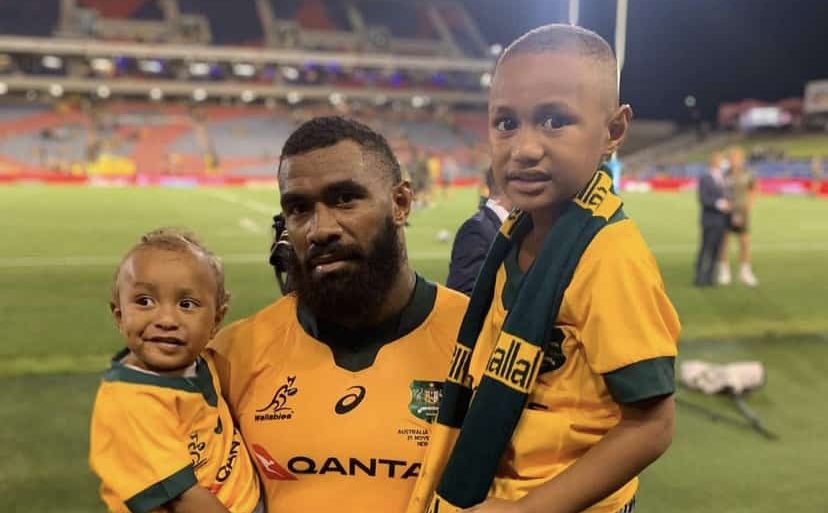 QWhat is your favourite activity with the kids?
AThe boys love going to the park and kicking the ball around. We also play a bit of touch rugby and 1v1 games.

QWhat are your memorable moments with the kids?
AThe most memorable would be when they came watch me play on the rugby World Cup in Japan. It was such a special thing for me that my kids were able to witness.

QDo the kids like to come to your games and how does that make you feel?
AThe boys more look forward to the game then me hahaha! I always want to put the best performance every match otherwise there will be long drive home with 1000 questions!

QWhat sports do the kids enjoy playing and are you involved?
AMy older son Iliesa plays under 7's for the Footscray Bulldogs and whenever I'm around I always go to his training day and game day. I always enjoy watching him play.

QWhen the season ends, and hopefully Covid restrictions stop, where would you like to take the family on a holiday?
AI want to take them back home to Fiji. It's always great to see my kids around their grandparents and cousins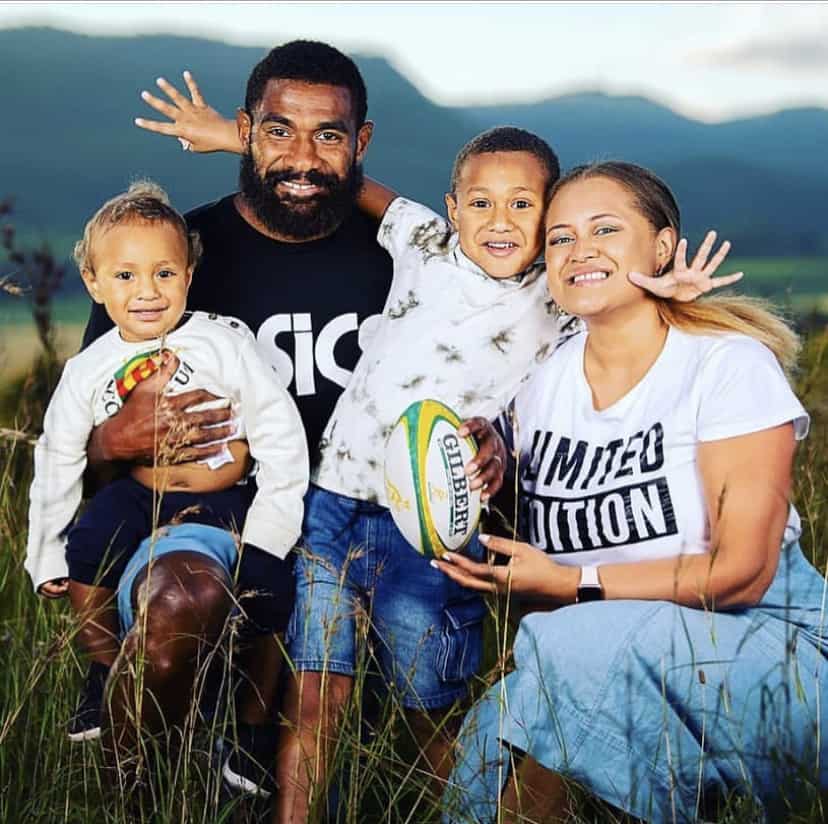 Now lets ask Emma and the kids some questions...
QWhat is his best asset as a father?
AMarika is an extraordinary dad! He is always very compassionate and involved with the kids' lives. With his busy schedule training and most of the times he is away on tour he would always call 4 or 5 times a day just to check in with us. Most importantly he makes his presence known when he is away and that's what we really truly appreciate.

QWhat's it like now having three boys in the family?
AIt's awesome! I enjoy it and while it's a bit challenging now I wouldn't change a thing. I love my boys and I'd do anything for them.

QWhat makes your dad so great and do you like watching dad play footy?
AMy dads great because he's always working hard and yes a love watching buy dad play Rugby