Family
Partner: Alex
Children:  Jax (6) and Darcy (3) 

Get to know Scott
The Magpies long term captain up until this season, Scott has done it all in the AFL.
A Premiership winner in 2010, in which he also won the Norm Smith Medal. A six time all Australian, Collingwood's games record holder, three Anzac Day Medals and voted by the AFLPA best captain in 2020.
After nine seasons and 206 games as captain, Scott resigned the captaincy last December saying the time was right to support the next leaders of the club. 
This year, Scott has helped guide the Magpies to the top of the AFL ladder and the Pies faithful will be hoping his on-field leadership and experience can lead the club into another AFL Grand Final.
The only thing Scott loves more than the Collingwood Football club is his two young children, Jax and Darcy and wife Alex.
"One of my most memorable moments with the kids was my 350th game," Scott said. "It was special having them both run out and be a part of the pre and post-game celebrations … all those photos are priceless memories.
"The best thing about being a dad is definitely the cuddles in the morning."
He is very balanced and always gives up so much time for us as a family and no matter how his footy is going he is always in a good mood with the kids and me.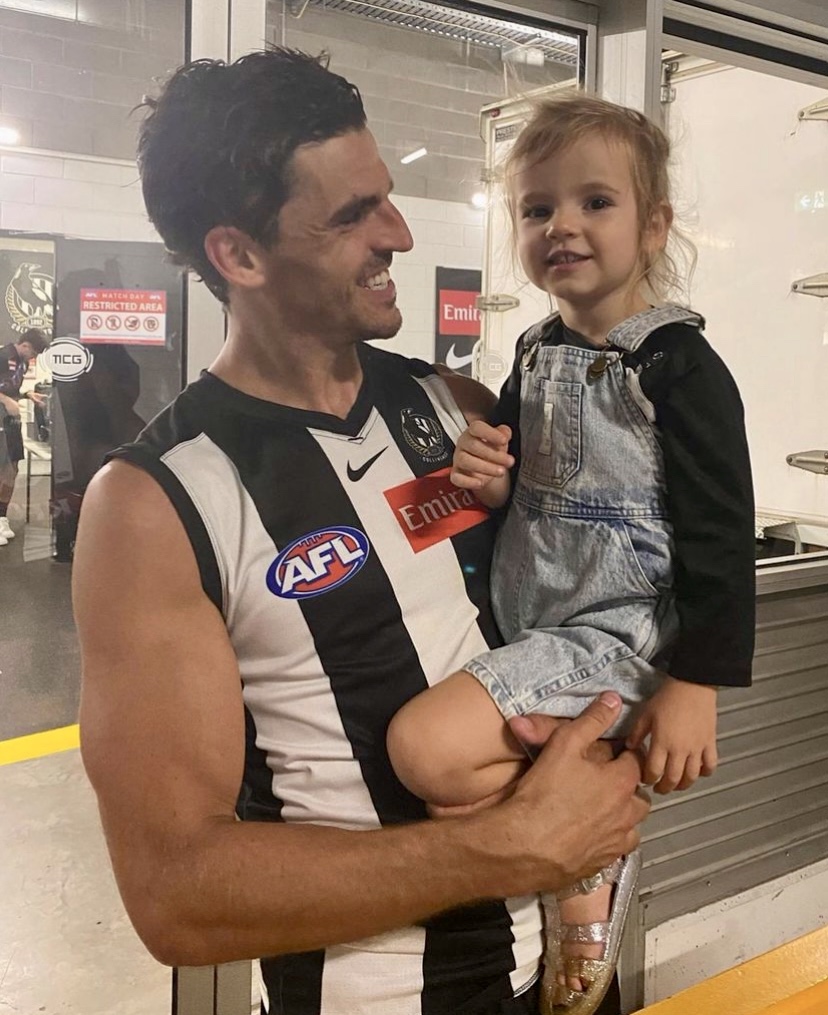 QDo you find it hard spending time away from the family due to your AFL commitments and how do you keep in contact?
AYep, we all got a new appreciation for this when the hub and Covid kicked in. I remember being away from my family for six weeks and leaving my kids at our house and saying goodbye and not knowing how soon I would see them again broke me. I was in tears driving to the club that day just thinking about them! I'm fortunate we play on the road only 5-6 times a year and I get to spend a lot of time with them! 

QAs the kids grow, are you seeing their personalities change and does your parenting style change with each of them?
AHaving a boy and girl has been an eye opener just in the way they both develop and think about things. I find Jax is more act first think second whereas Darcy will think about things before she does it so there's less destruction in her behaviour! Both are great young kids though who love being outdoors and playing together and they have a really special and close knit bond. 
QHow big an inspiration are the kids to your career, have you changed the way you go about your work since they were born?
AYep they are massive on the way I got about it in terms of wanting to bring them along for the journey and involve them as much as I can. They have travelled to all my away games this year and they sing the team song with us when we win … all those little things mean a lot to me now.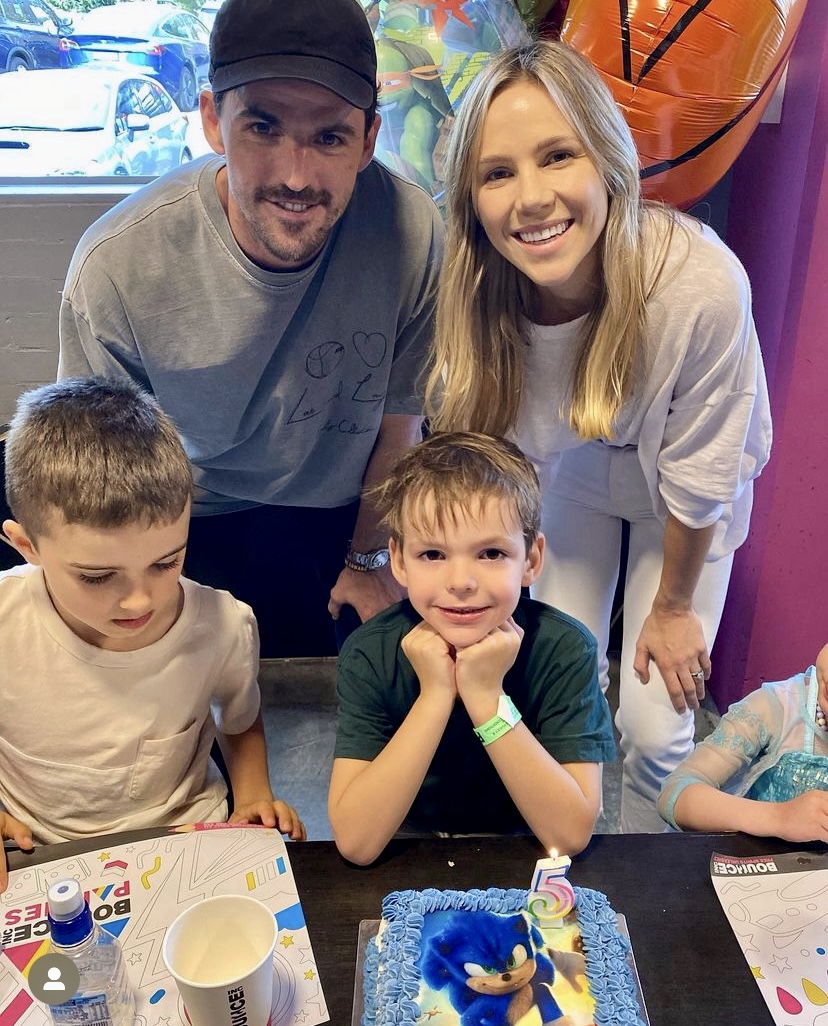 QAfter a game, is there a particular way the kids celebrate with you?
AI love just having them involved in what I do, sometimes it's singing the song and coming to the post game recovery or functions or other times they'll come into the club during the week and just be there for the day. I'm super fortunate our club is like a big country footy club where everyone is welcome and we are just one big family. 

QDo you enjoy cooking for the kids, if so what's your go to dish for each of them?
AThey absolutely love butter pasta and like most parents would say if they are happy to eat without throwing it away then we are happy to cook that for them! Simple, time efficient and easy to make so no complaints here.
QDo the kids have a favourite activity with you?
AJax's favourite activity at the moment is anything to do with Pokémon so we battled cards a fair bit - not that I really know what I'm doing but he loves it so that's all that matters! Darcy loves playing barbies or doing make-up so I have a bit of fun with that. It's not something I ever imagined I'd be doing but as I said … it's cool just seeing my kids happy so that's all that matters!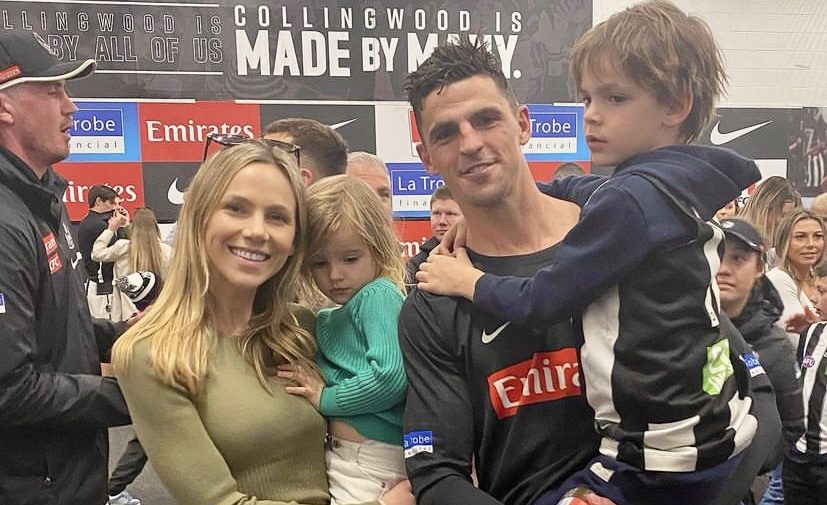 QCreating memories is special for a family, are there any travel destinations you'd like to take them in the short term?
AJax has recently been asking to travel the world! He wants to go to Japan and visit some Pokémon shops as it's all the rage at school. Darcy loved Fiji last year and just wants to go somewhere hot so she can wear her dress without a jumper and pants under it – because it's freezing in Melbourne this time of year! 
Q
As the kids start playing local Community Sport are you keen to get involved at some stage?
AMy oldest plays soccer and Auskick and I help out with both when it doesn't clash with footy, and my daughter does kids in motion which is like kinder gym. It's great going and watching them develop and have fun. 
QOutside of kisses and cuddles what's the best thing about being a dad?
AJust being someone who's always there for them and seeing them happy and loving what they. There really isn't many better things in life than seeing your kids happy and healthy and always smiling!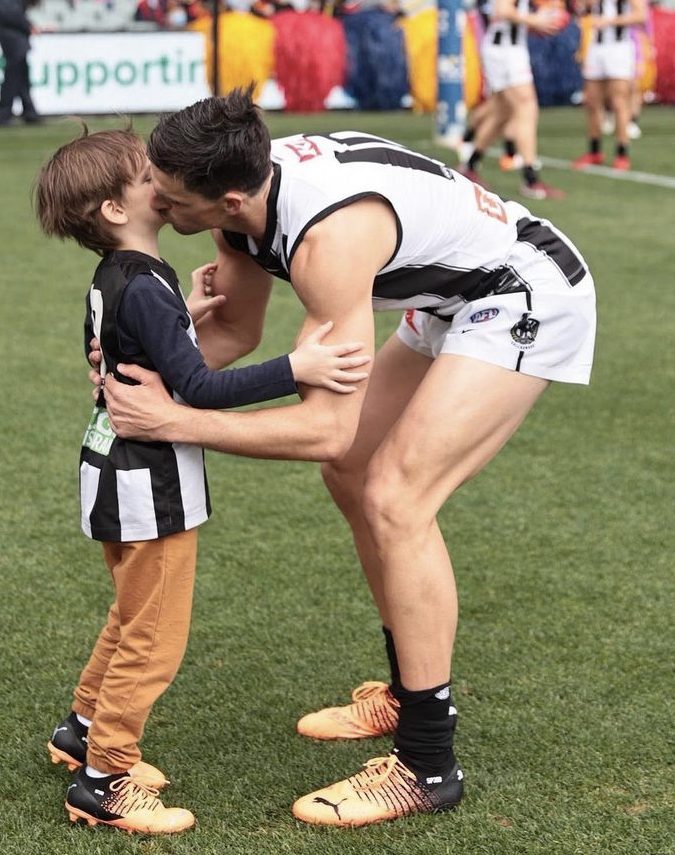 Now lets hear from Jax's
QWhat makes your dad so great?
AHe always likes to play games with me outside and go for big bike rides. I also love walking home with him after games of footy and doing swimming back at his club with all his team mates.