Family
Partner: Tahlia
Children: Sophie (2) & Elodie (8 months)
Get to know Thomas
While his brothers starred in the Rabbitohs' historic 2014 grand final win with a key try to George and an inspirational performance by Sam to end Souths' 43 year premiership drought, Tom quietly went about his work coming on from the interchange bench.
And as his brothers drifted off back to England, only to return, Tom has stayed at the Rabbitohs and is closing in on 200 appearances for the famous club. In fact, the 196cm and 120 kilogram forward is playing the best football of his career as Souths look to claim another premiership, playing the big man role to perfection.
However, Tom will tell you his biggest role isn't on the field, it's off it as dad to two little girls.
"I want to be there for them in every aspect of life" Tom said. "More specifically having two girls … I didn't grow up with sisters so I'm just learning on the job I suppose but I just love being with them, cuddling a lot, kisses … plenty of fun with daddy!
"I can't wait until they get involved in sport … I've already been a big hit at ballet classes!"
Patience is Thomas' greatest asset! He has this amazing ability to be a great dad 24/7 which means even when he is tired and sore after a game. The other thing is his enthusiasm for all things pink, Emma Wiggle and anything else our girls desire!
QDo you find it hard spending time away from the kids during the season and what's it like now during Covid?
AYes I do find it hard especially now they're getting a-bit older and more aware but during Covid we actually get to see each other more which is great. Last season for example we didn't have any stop overs for games, just fly in fly out. I didn't mind it at the time as we always stay in our own bed. 

QOn normal game days, do you like to relax with the kids or do you try to keep away from the family?
AOn normal game days, I do like to relax with the kids, go out for breakie with them or go to the park/beach. They're a great day filler.

Q Tell us about those nappy changes and bath time …
AOne thing that has never really bothered me, I'll change a nappy anywhere! I was once at game day breakie with the boys and Sophie and she needed a heavy nappy change and I was just going to do it in her pram at the table but the lads didn't like the sound of that so I went to the bathroom! Bath time has always been my domain, as I get home from training usually and they're ready for bath, also I think it's the English in me, we love our baths!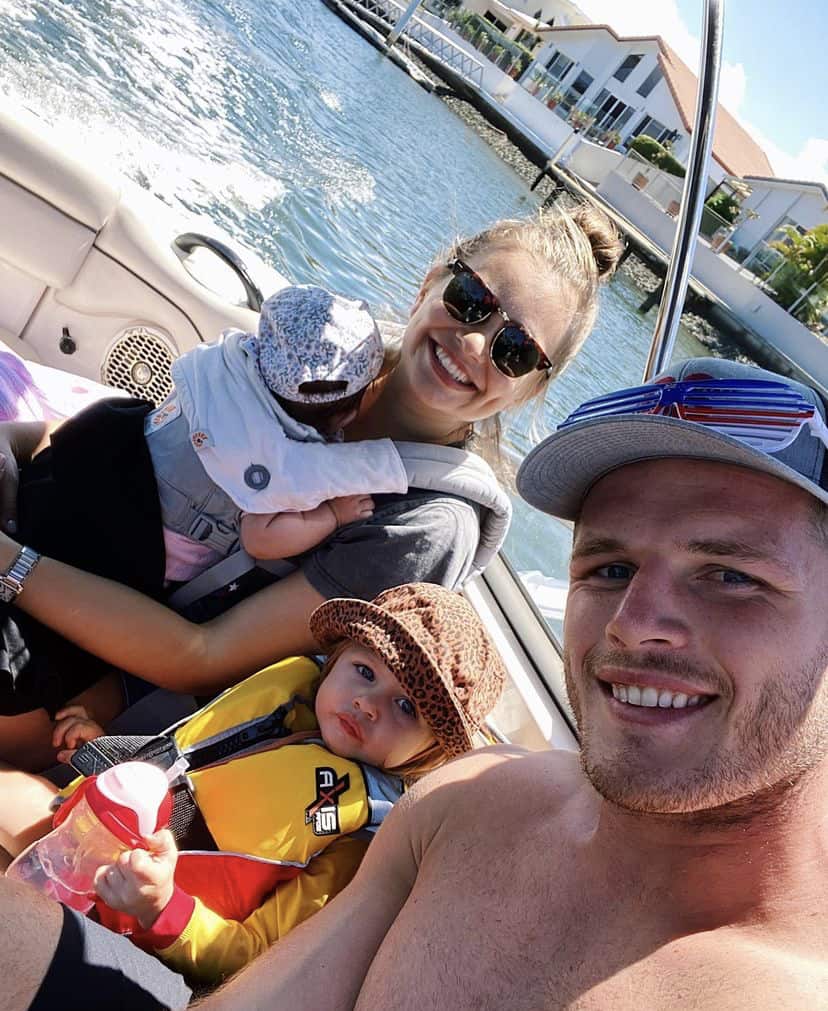 QWere you at the kids' birth, what was that like?
AYes I was definitely there for both births, start to finish, I loved getting involved and helping any way I could. With Sophie I actually played the day she was born on limited sleep but came straight back to the hospital after the game for cuddles. Elodie's was a lot quicker and we actually had a birth photographer for her birth so we could look back and remember it better.

QWhat is your favourite activity with the kids?
AI love swimming with the girls, they're both big water babies and love being in the water and so do I. They also love playing with the ball and on the trampoline.

QAny memorable moments with them at this early stage?
AWell only just recently we went away on our first trip as a family of four to Tasmania. It was great to get away just the four of us to somewhere different, it reminded me a little bit of England and we didn't even need to do much there because just travelling together was great and they're the best company.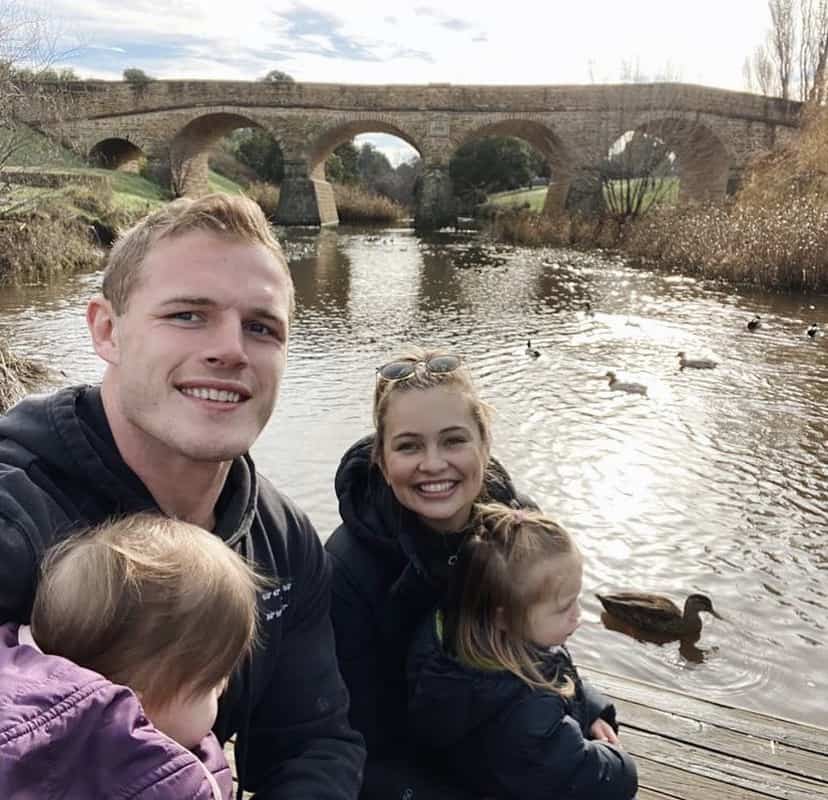 QDo the kids like to come to your games and how does that make you feel?
AWell, they both got their Souths jerseys for Christmas! Sophie loves wearing it and saying 'same' and pointing to my shirt. I would say Elodie is still too young just yet but she is the happiest little baby I know. Sophie and Elodie were both in the crowd at the last game recently for the first time and to see them both there in the stands after the game was quite emotional and made me very proud.
QDoes Sophie enjoy playing a sport or activity?
ASophie loves playing anything really, always happy to run around and kick a ball or throw it. Anything with daddy really (and mummy)!

QWhen the season ends, and hopefully Covid restrictions stop, where would you like to take the family on a holiday?
AWe will probably just stay up in Queensland for a little bit and maybe go over to WA too and explore. Camper van for sure!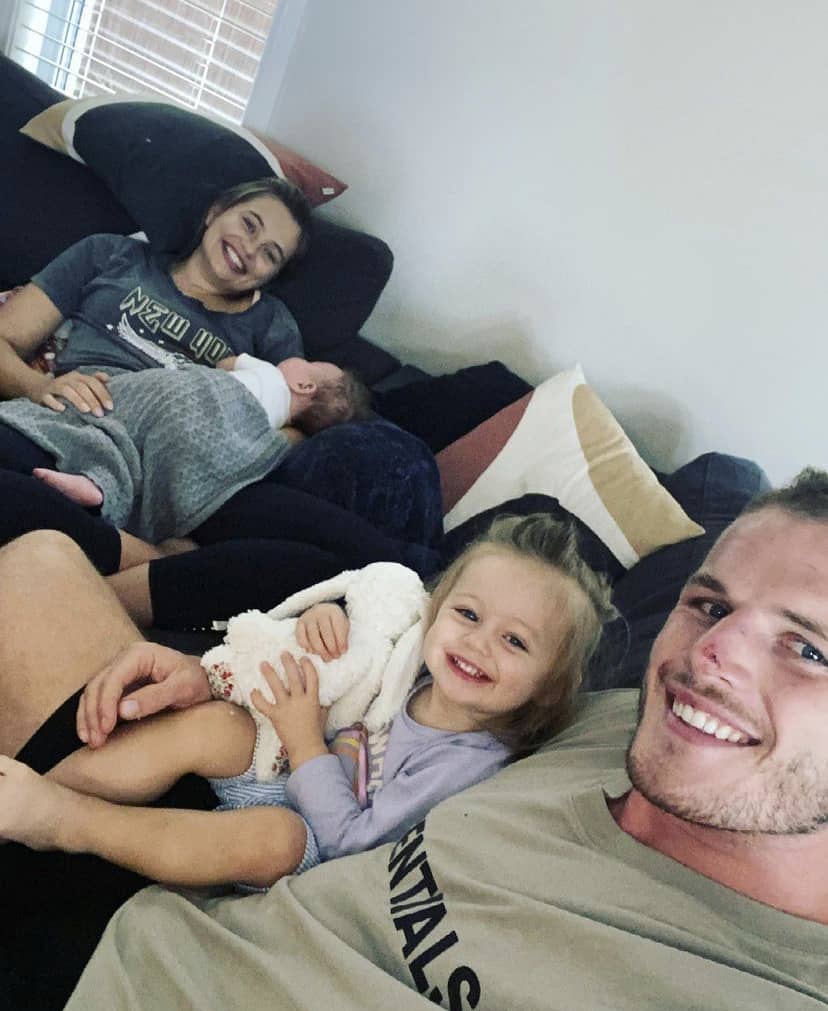 Now lets ask Tahlia and the kids some questions...
QHi Tahlia, what is Thomas' best asset as a father?
APatience, his ability to be a dad 24/7 even when he is tired and sore after a game. Also, his enthusiasm for all things pink, Emma wiggle and anything else our girls desire.

QHow hard has it been these last few years with Covid and two young kids?
AThere been pros and cons to it but we're thankful for the time together, even if we haven't been able to celebrate milestones with family we've had each other.

QTell us something we all don't know about Thomas?
AHe's the chef in our house, but he always leaves food out of the fridge! He's also OCD about how clean the pool is, no leaves is a must!

QThanks Tahlia, can you ask little Sophie what makes her dad so great and does she like watching dad play footy?
A"Daddy bounce" - Sophie loves the trampoline & "Go daddy" - she says this whenever she sees football on the TV.