Family
Partner: Rachel 
Children: Aisha (3), Ayla (1)
Get to know Usman
A century at the SCG in January 2022 kicked off a remarkable run of form, which saw Uzzy score four hundred's in seven Tests, with a highest score of 160 and an incredible average of more than 98. 
It was those remarkable stats that cemented Uzzy the Test opener spot after years of being shuffled around the order.
This year alone, Uzzy has played 11 Tests, scoring 1037 runs at the incredible average of 54.57, which a top score of 195 not out. He also played a pivotal role in helping Australia retain the Ashes this year, finishing as the leading run scorer in the series with 496 at an average of 49.60.
Uzzy passed 5000 career Test runs in the Ashes series at a highly respectable average of 47.20.
An elegant, graceful player with exquisite timing, Uzzy is a fan favourite right across Australia and in World Cricket.
But he's also a favourite doting dad to little Aisha and Ayla.
"The best thing about being a dad is the love you get from your kids," Uzzy said. "When they come and cuddle you or give you a kiss … I'm not sure you can replicate that feeling. Also Aisha is at an age when she fetches dad things! That's handy too!"
Uzzy is such a great Dad because he's really hands on with the kids … whenever he is home and free he's always helping out where he can. Whether it's nappy changes, bath time or taking Aisha to the park to give me a little break. He is also a great Dad because he has such a fun and playful personality.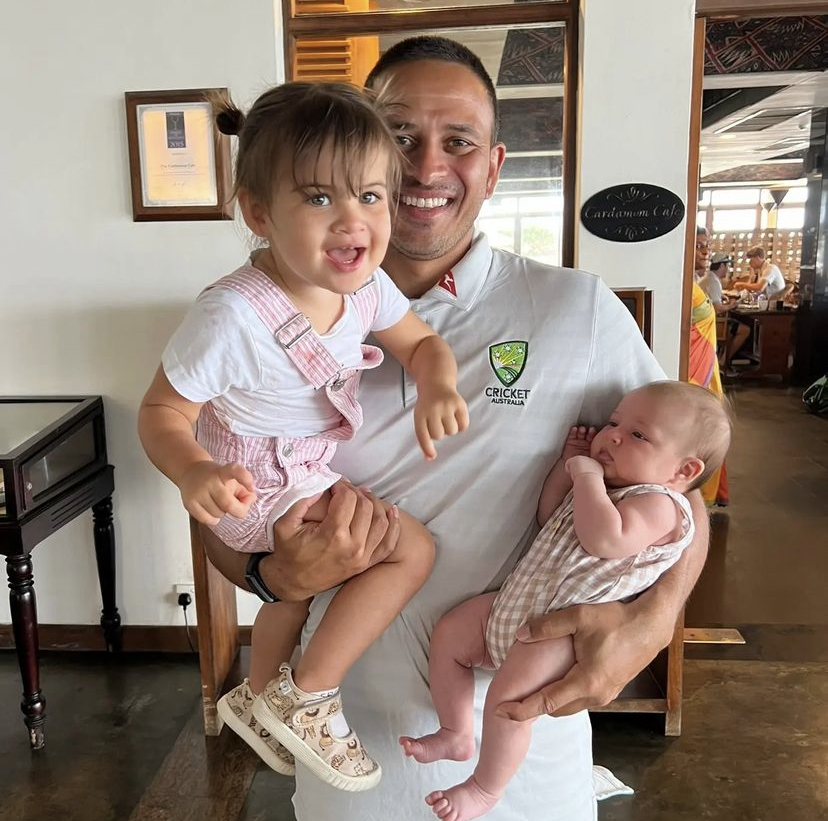 QYou've been lucky enough to be travelling with the family for cricket, how does that make you feel and also sharing special moments like an Ashes victory?
AI love being close to my family and sharing these moments. I'm always mindful of my lovely wife who has a heavy burden during these events, but there is nothing like being able to play with the kids on the field after a test match whether we win or not. Aisha and Ayla love it and it's a special bonding moment that we all get to do together. Particularly for Rachel who's been through a lot with me in recent years being in and out of the team. It's nice to be able to enjoy the experience together.

QAs the kids grow up are they showing you their different personalities?
AYes Aisha is a menace. Very loud and chatty, like her dad. And love to joke and play around. But she has that very feminine side of her too where she loves dresses, and playing make believe games such as doctor, or being a waiter. Or pretending to be Elsa from Frozen.

QAre the kids starting to take an interest in your career?
AAisha definitely knows 'dadda' plays cricket. But I keep it pretty light hearted and for her it's not any more relevant then that's what I do for work. Which I like and want to keep it. I won't be playing forever so it's important for them to know that it's just a game. Ayla associates all grassy fields where sport is occuring as "dadda". So she kinda gets it! ????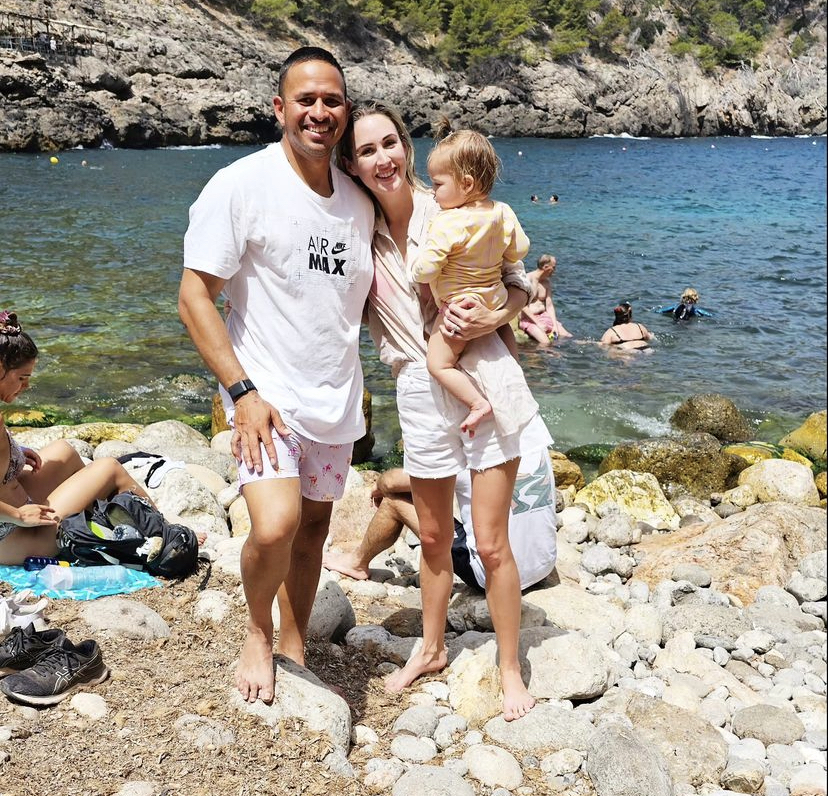 QWe know Aisha loves a trampoline and a swing, does she also like to play any sports…any favourite?
ADad tries to get her to hits lots of golf balls. Her swing has come a long way. She likes to kick the soccer ball around too. But her attention span is quite short at the momentm. 5 mins max with sport.
QYour beautiful wife Rachel is such an amazing partner, tells us more about her and how she helps you become the best dad?
ARachel literally runs the household. She's very organised and literally takes all the load off me during games where I don't have a lot of time for many things. Cricket is a long game! There is no way I could perform and play the game at my fullest with two kids without all the hard work she does in the background. It's the little things too, like keeping the kids up past their bedtime so I can see them after a days play that makes all the difference. And she is always thinking about others. She is truly the rock of the family. Hence why the kids and dad love her the most!

Now lets hear from Rachel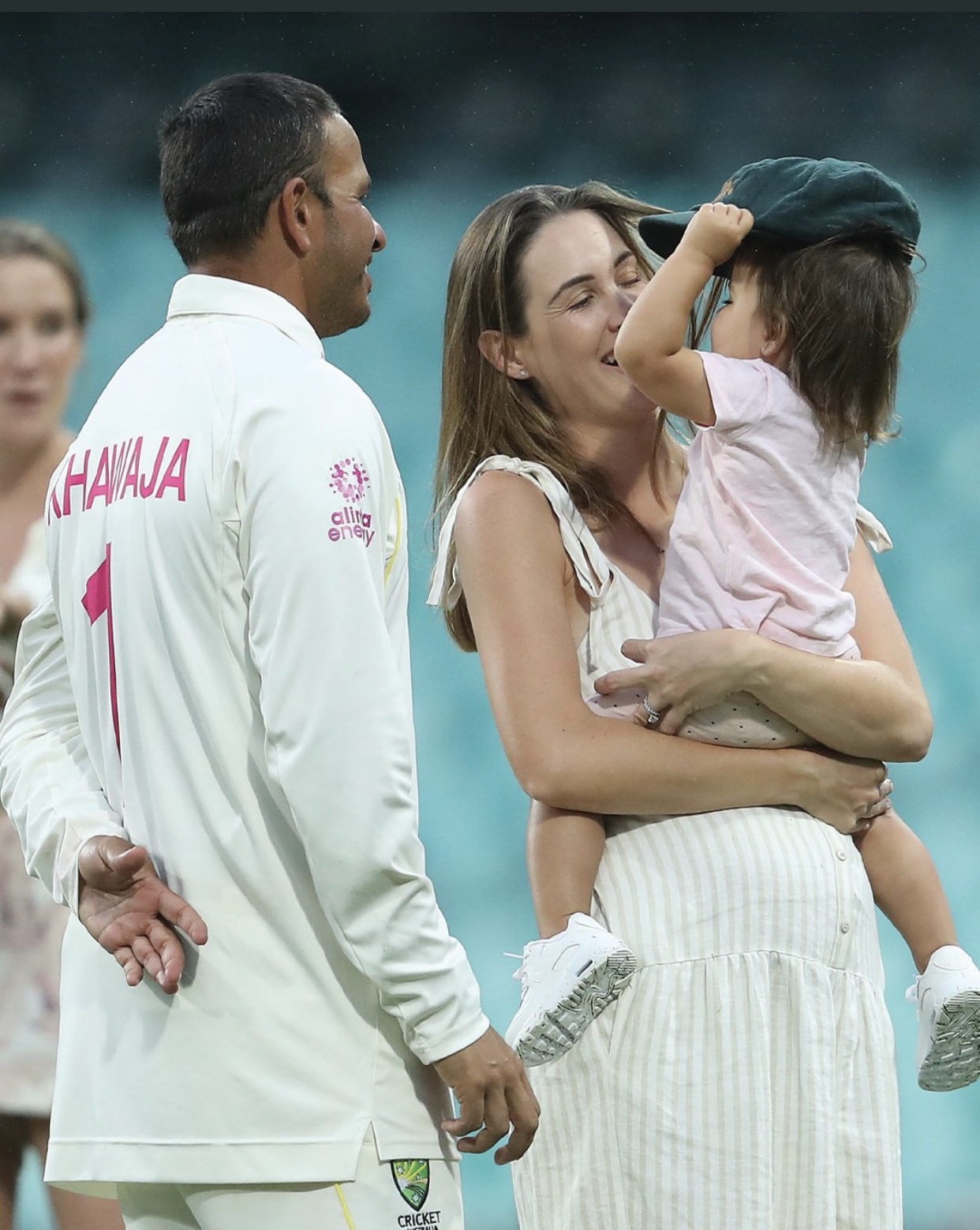 QHow hard is it when he has to be away from home?
AIt can get quite hard when Uzzy is away from the kids. I think it's sometimes harder for him though because he misses them a lot when he's gone and it's getting harder the older they are getting. I am very lucky I have a great support system with our family and friends that help me out when I need as well. 

QYou told us last year that Uzzy hates spiders…..is there anything else we don't know about him?
AUzzy is actually surprisingly good at playing the guitar. And the girls love music so he has pulled his guitar out and is going to start to learn some songs that the girls will recognise and can dance around to.