Get to know Bradley
Bradley Benjamin lives in a town famous for its black opals, but for the Lightning Ridge Junior Rugby League Club and community, he is a rare gem.
That's why Bradley has been crowned this year's Philips Community Sports Dad of the Year.
The vice president of the Lightning Ridge JRL club and Under 12's coach, Bradley has played a major part in keeping rugby league thriving at grassroots level in the remote NSW mining community since moving west from Sydney 12 years ago.
QHow do you feel about being the 2022 Philips Community Sports Dad of the Year winner?
AI am honoured, humbled to have received such an award I do what I do for the love of it and excited to share the very generous prize with the communities to further help the kids.

QTell us about the Lightning Ridge JRL and the local community - how important is community sport?
AI would like to donate the Rebel Sport $5000 voucher to the Lightning Ridge JRL.
Lightning Ridge is a rural and remote town in N.S.W approximately 40mins south of the Queensland boarder, famous for its black opal.

Our local Lightning Ridge JRL club has U6 tag, U8, U10 &U12 tackle and is open to all kids from those that just want to be apart of a team, just want to be active or are keen NRL players.

Our families travel many hours (in fact its about 250kms one way) each week to get our kids together to do what they love and play footy. I have been apart of the Lightning Ridge JRL since 2015 and taken on an active role since 2016. The communities of Lightning Ridge is supportive of one another and passionate about sport so it was an easily decision to be involved. Living in a rural and remote community you realise the importance of community sport and the huge role it plays in our families lives as it is an outlet for not only our kids to stay healthy and active but for our families especially during recent times with our communities suffering the effects of covid and flooding all on the back of years of drought. The social aspect sport brings to the communities is invaluable- together we are supporting each other during footy season and making lifelong friendships and overcoming challenges together.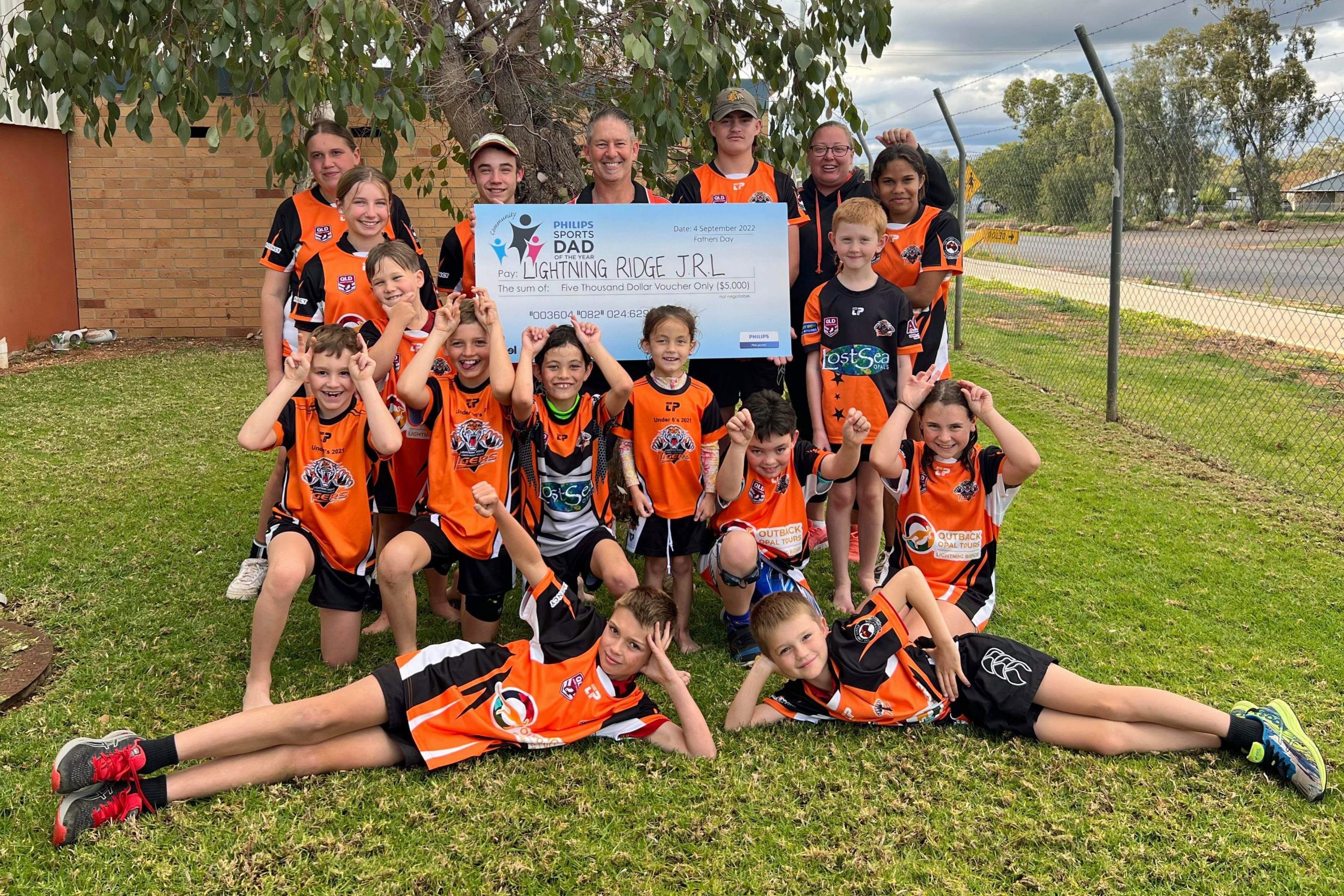 QDo your kids play at the Club and do you play sports?
AI have 3 kids - Blake played for the Lightning Ridge Tigers U8- U12 before going away to boarding school. Riley is in U12s currently and his last year of junior footy. Levi is in his first year of U8s.

QWhat motivates you to do what you do for the local sports community?
AI love the game of rugby league. I played as a youngster for the Leichhardt Wanders for 8 years U9-U17s. Playing with a team, being apart of a team and having an interest keeps me young. But To be able to enjoy something with my own kids- watching them grow, develop skills both on and off the field, making friends was what motivated me initially now to see all the kids benefiting from sport in the same way is what keeps me going. It really does take a village to raise kids these days and I'm happy to provide a safe and fun environment.

QTell us what is your role at the Club and tell us about your normal week of helping the club?
AHa-ha, what's a normal week- I don't see that I'm volunteering my time I just do it, whether the kids are going to swimming, footy, basketball, school or the shops I just stop and check in on them let them know when training is on or just let them know what's happening with sport. But My role with the Lightning Ridge JRL is Vice President, and U12 coach. Balonne Barwon Rep teams have seen me in roles such as Coach or Trainer for the U12 & U10 rep teams, sport trainer, and League Safe, I also referee, mentor and provide a taxi service before/after training, to away games, or to Rep carnivals. Training is twice a week, I'm hands on with the set up and pack up of the fields on training nights and game days.

QAny final words?
ABig Thank You to Philips who partner with the award plus congratulations to all the super sport dads each and every year you are champions and keep making a difference within your communities. Thank you to everyone who nominate me. I am truly blessed to have such a great family and be apart of an awesome community.

Brad loves the kids and they love him. He loves footy. He loves to involve himself in the community every chance he gets and he puts his hand up straight away, you can find him at all our kids events or chaperoning them to the events.
Chantelle King
Local Resident of Lightning Ridge who nominated Bradley
We acknowledge the contributions and positive impact that Australian dads have made to their families and community both on and off the sporting field.