Get to know Jason
Jason has been part of the Orange local Rugby League sports community since he was a boy, his wife Tammy, who nominated him said his passion to the game is second to none. "This year he is president, coach, and a referee in our junior league and can be found in the canteen, on home draws, and then on Sunday running the water or line for the senior League. Nothing is ever a problem for him and like many other dads he gives many hours each week to make our club the success that it is".
Befitting his giving nature Jason was humbled by the award "I feel very honoured, it's a wonderful achievement to be recognised by the community of Orange and in particular the Bloomfield Junior RLFC. Without the nomination and support I have received this year by all, then this wouldn't have happened. It is a reward and recognition for the club as much as myself".
Jason added "There are hundreds of dads in the local community and thousands around the country in their communities who do what I do and have done it for a lot longer. For me, and I am sure for the rest of the dads out in their sporting communities helping out, it is all about the kids getting outside playing sport, enjoying themselves, making life long friends and giving them the opportunity to become better kids. Without dads, mums and volunteers helping in their sporting communities then the kids may not have the opportunity to participate.
Jason's prize was a $5,000 rebel sports voucher which he donated to the Bloomfield Junior RLFC.
Jason went on to say "I'd like to give Philips a big thank you for getting behind this great promotion and recognising the great work dads do in the sporting communities throughout Australia. The sporting products that we will get for the club will benefit many children in our club for years to come.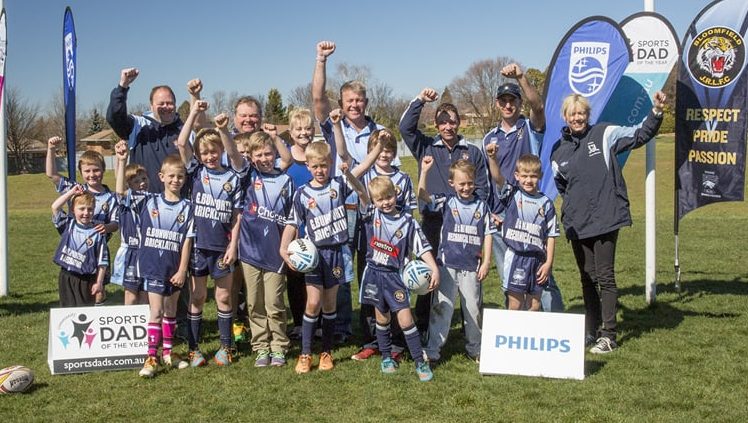 We acknowledge the contributions and positive impact that Australian dads have made to their families and community both on and off the sporting field.