Get to know Adam
The Rabbitohs star was the 2020 winner after polling more than 20 per cent of the vote to beat out NRL colleagues Josh Morris, Michael Jennings and James Tamou, AFL superstars Trent Cotchin, Tom Hawkins and Mitch Robinson, super car favourite Fabian Coulthard, NBA Star Matthew Dellavedova and Wallaby half Nic White. "I'd like to thank everyone who supported me and all the other dads – it's a great honour to be named the Sports Dad of the Year" Adam said. "My family means the world to me – Tallara and all my beautiful kids Nakylah (11), Aaliyah (10), Kobe (6) & Zariyaa (3). "Being in a 'bubble' has made it very challenging at times. We haven't been able to get out and about as a family as we normally would. I guess I've learnt a lot more about them as we've seen a lot of each other this year."
Besides winning the title, Adam donated his $5000 prize to Save our Sons, the organisation fighting every day for a cure to Duchenne Muscular Dystrophy. "They are a foundation that works extremely hard," Adam said. "It's a great cause and hopefully we can find a cure soon," Adam said. Adam spent Father's Day with his family relaxing after a tough game against the Storm on Friday night. "Today I will be in lockdown so just some family time at home. Playing games in the back yard and a family movie in the afternoon. "I'd like to thank Philips for getting behind this amazing award and wish all the dads out there a happy Father's day."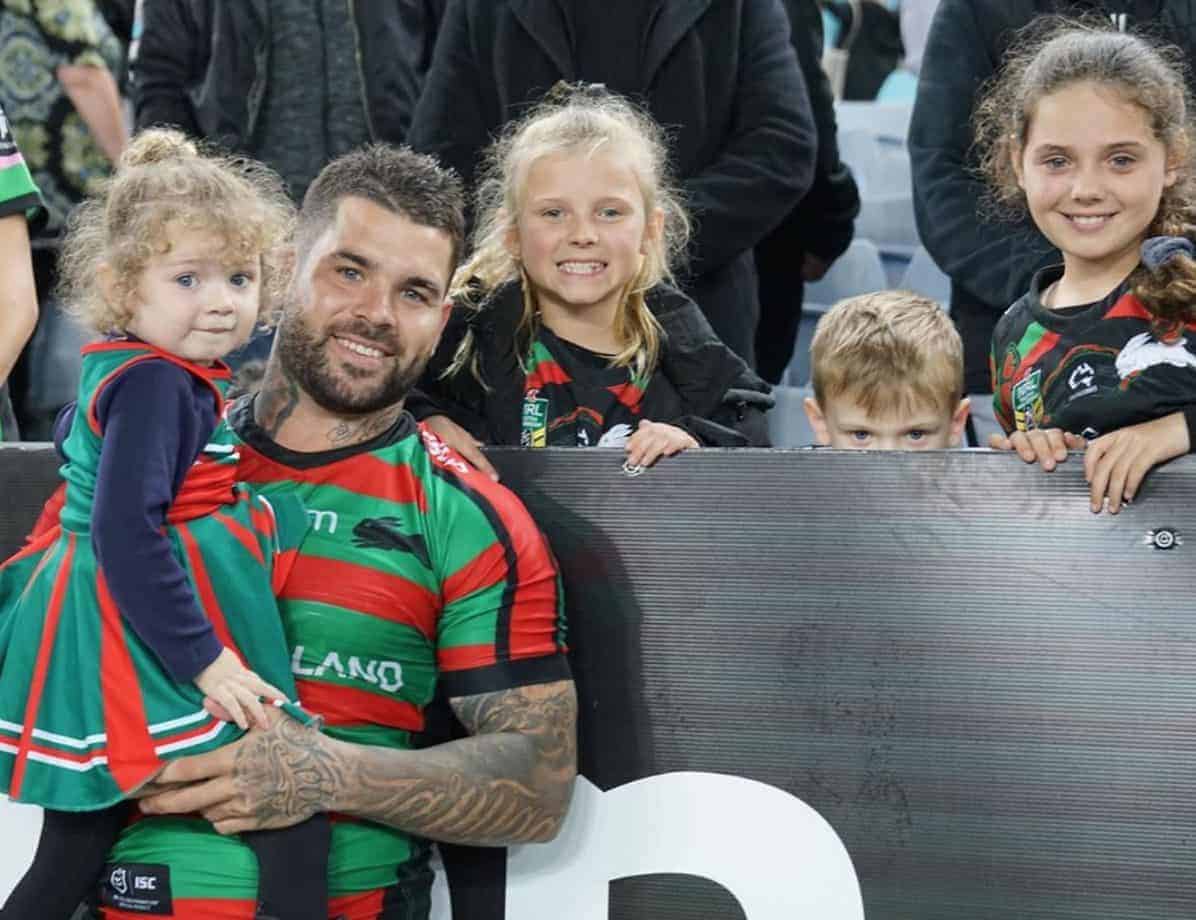 QYou've won a premiership and captained the Rabbitohs, but how does being judged sports dad of year rank among the list of your achievements?
AIt's right up there amongst all the awards I have won. To be recognised as sports dad of the year is a honour and a privilege. Family and sport is my life.
QTell us about the charity you have chosen to support Save Our Sons and what does being able to give them a $5k cheque mean to you and to them?
AI have chosen save our sons as my charity of choice . Eli and the team have been inspirational to me and many others with their passion and persistence . Their hard work and dedication is infectious and I'm extremely honoured to be able to support the cause . Hopefully we can find a cure .

QOn game day, do you like to relax with the family, do you have a set routine?
AI try and keep things as low key as possible but enjoy hanging with the kids as much as I can.
QHave the kids taken a liking to any sports?
AThe kids play netball, Oztag and do cheer leading. We also have a basketball hoop in the front yard and can often be found there shooting hoops.
QWhat is your favourite activity with the kids?
AI'm a big wrestler. We have a rumble here and there. Just being out and about with them - when allowed - and doing basically anything with them.
QWhat are they most memorable moments with them?
ABirthdays, first days at school, watching them play sport and just seeing them happy makes me smile each and every day.